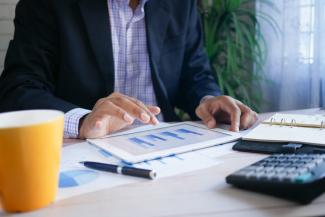 Why I Became a Financial Advisor
I've always been fascinated by finance. Growing up, I loved learning how our economy and the financial markets worked. After studying economics in college, I knew I wanted to work in finance, but I didn't yet know exactly where this path would take me.
After graduating from Eastern Illinois University, I started my career at Scudder Investments. For the next 12 years, I climbed the ladder, eventually becoming Assistant Vice President before transitioning to Calamos Investments as a Vice President.
Discovering My Passion
It wasn't until my last management position where I realized I may be suited to being an advisor. I was a District Manager at CUNA Mutual Group overseeing a financial planning program for 15 credit unions. I learned that what I enjoyed most was working with the individual clients and their families and developing financial plans that would allow them to pursue financial independence.
With this new passion in mind, I switched from the corporate to the client-facing side. After working with MidAmerica Bank and Morgan Stanley, I decided it would be best for me to branch out on my own. In 2011, I established my practice,  The Stanton Group WP, and in 2014, partnered with SeaCrest Wealth Management, LLC, a registered investment advisor, to offer investment advisory services. The rest is, as they say, history.
My Career Today
Today, I have more than a decade of experience as an advisor and more than 30 years of experience in the financial services industry. Largely serving business owners, pre-retirees, retirees, and families, my mission is to provide unbiased financial counsel while delivering exceptional service.
As a wealth advisor, I am wholly focused on each client's unique needs and priorities, and I am dedicated to serving with the highest levels of honesty, integrity, and overall excellence. Specializing in providing comprehensive wealth planning, retirement planning, and risk-managed investment portfolio design, I develop objective and customized strategies for each of my clients.
The Triumphs and the Hurdles
As much as I enjoy being an advisor, there are many challenges I have overcome. It can be difficult balancing so many strategies, such as delivering custom planning solutions alongside portfolio management. While financial planning requires a lot of time spent with clients learning about their personal needs, portfolio management also requires careful attention.
Despite the difficulties, I love what I do. It's so fulfilling developing trusted relationships with people and delivering them solutions that result in what they hope to pursue. In everything I do, I hope to put my clients at ease and feel less stressed about their finances. I believe that, with proper planning, everyone can achieve financial independence. Helping clients get on the right track and pursue this success gets me out of bed every morning.
Working Together
I believe that too many people do not receive the appropriate amount of help and guidance they need to meet their financial goals. I am committed to providing my clients a level and depth of personalized attention and service that goes beyond what they have previously experienced.
Because I provide such a high level of service and hands-on strategizing, I only work with clients I believe I can truly help. If you're interested in learning more about my approach and the people I serve, I encourage you to reach out to me, whether it's sending a quick question by email or calling me for an appointment. You can reach me by calling 630-445-2380 or emailing JStanton@seacrestwm.com.
About John
John Stanton is the Wealth Advisor at The Stanton Group WP | Seacrest Wealth Management, LLC.  With more than three decades of experience in the financial services industry, he serves as the primary advisor for clients, focusing on financial planning and the investment strategies to support their financial plan. Based in Naperville, Illinois, John serves clients in Naperville, Plainfield, Darien, and throughout the state. Learn more about John's services by visiting www.stantongwp.com or connecting with him on LinkedIn.
The Stanton Group WP provides investment advisory services through SeaCrest Wealth Management LLC, (the "SWM") a registered investment advisor. SWM is a registered investment advisor ("RIA"), with the U.S. Securities and Exchange Commission located in the State of New York. SeaCrest Wealth Management, LLC can be reached at (914) 502-1900.