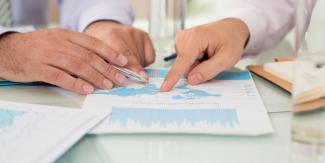 What We Do and How We Can Help
The term "financial plan" sounds simple enough until you sit down and try to start. Developing an effective financial plan is no easy task, and the process can be complex. The path from Point A to Point B could be riddled with potholes or forks in the road, which can make staying on track difficult.
This is why many people turn to a financial advisor for help. However, too many people hesitate to find a financial partner because they're tired of advisors who aren't 100% focused on their goals and serve more as salesmen than guides.
You deserve the opportunity to pursue your financial goals and to have a financial advisor by your side who has the proper skills, knowledge, objectivity, and motivation to help you avoid common pitfalls and make prudent decisions. We want to fill this role for you.
Who We Are
The Stanton Group WP | Seacrest Wealth Management, LLC is an independent firm providing trusted financial advisory and wealth management services. Founded on integrity, hard work, and uncompromising quality, we seek to serve as your most trusted financial advisor, providing you professional knowledge, integrity, and personalized service.
As an independent practice partnered with Seacrest Wealth Management, we can provide the strength and resources of a national firm with the personalized and hands-on approach of a community practice. As a client of ours, you won't have to worry about getting lost in the large institutionalized maze of generic recommendations.
What We Provide
We offer comprehensive financial planning and investment management solutions, including wealth planning, retirement planning, investment management, risk management, estate planning, and more.
Whether clients come to us for help in one area or multiple areas, we strive to provide unbiased financial counsel, deliver exceptional service, and focus 100% on our clients' unique needs and priorities.
Our services go beyond a one-time recommendation. Financial planning is a process; not an event. In order to provide you personalized service and guidance, we want to learn about what makes you tick. What's most important to you? What keeps you up at night? Only once we understand your circumstances, where you are today, and where you want to be in the future can we provide objective and impartial feedback about your current situation, and if appropriate, suggest alternatives that may be more suitable.
Who We Serve
While we work with a variety of people, most of them are successful business professionals. They might be corporate executives, small business owners, or high producing sales professionals. They usually have families they hold dearly and want to provide for.
As they're busy in their careers, they desire a financial advisor who can help them manage their wealth, keep them on track with their financial plan, and provide ongoing guidance as they face important financial decisions.
Along with business professionals, we also work with a number of pre-retirees and retirees. Whether they're a few years away from retirement or already enjoying their Golden Years, they face a similar need to the business professionals: a trusted financial advisor who can assist with a myriad of financial questions, decisions, and needs.
What Sets Us Apart From Other Firms
We've surveyed our clients and received some great feedback as to why they choose to work with us. The most common response? That we listen. We are truly interested in what you have to say and what you want to accomplish. Rather than come across as a salesperson, our clients believe we instead act more like a trusted consultant on financial matters.
Much of this has to do with our commitment to long-term relationships. By building long-term relationships with a select number of clients, we can work on what matters most to you. We ensure that we take our time, getting to know what is truly important to our clients, and deliver effective solutions to those priorities.
Take the Next Step
Do you seek a financial advisor you can trust to be honest and objective? Are you tired of hidden fees? Experience the difference a relationship with Stanton Group Wealth Partners can make for you and your family. Reach out to us for a complimentary "get to know each other" meeting. Call 630-445-2380 or email JStanton@seacrestwm.com.
About John
John Stanton is the Wealth Advisor at The Stanton Group WP | Seacrest Wealth Management, LLC.  With more than three decades of experience in the financial services industry, he serves as the primary advisor for clients, focusing on financial planning and the investment strategies to support their financial plan. Based in Naperville, Illinois, John serves clients in Naperville, Plainfield, Darien, and throughout the state. Learn more about John's services by visiting www.stantongwp.com or connecting with him on LinkedIn.
The Stanton Group WP provides investment advisory services through SeaCrest Wealth Management LLC, (the "SWM") a registered investment advisor. SWM is a registered investment advisor ("RIA"), with the U.S. Securities and Exchange Commission located in the State of New York. SeaCrest Wealth Management, LLC can be reached at (914) 502-1900.