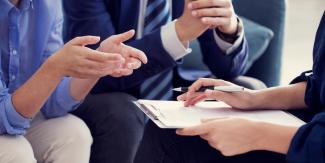 Introducing The Stanton Group WP Financial Planning Strategic Partners
One individual cannot be an expert in all the financial areas that impact your life.
As your needs become more complex, we have developed relationships with a small group of wealth strategy professionals with different areas of expertise.   
By coming together with these individuals, and working in a collaborative fashion, our clients benefit from truly comprehensive wealth planning.  
So, we would like to take a minute to introduce this team of professionals to you.
John and Jill Stanton
As the founder of this practice, John is the primary advisor for clients, focusing on financial planning and investment strategy.  With over 30 years of investment industry and wealth management experience, John brings a unique perspective when working with clients.  
John's wife, Jill, serves as the Director of Office Services. She is also a licensed real estate agent with the Lisa Wolf Team at Keller Williams. Together they work as a family with a passion to help all the other families and hard working individuals in their community. 
Our Strategic Partners
We have experienced a great variety of unique needs that each client brings. There is a lot that goes into planning and managing all of the aspects associated with the accumulation, preservation, and transfer of family wealth. We have developed relationships with a small group of wealth strategy professionals, including CPAs, Tax Professionals, Estate Planning Attorneys, Business Attorneys, Commercial Bankers, and Mortgage Bankers. These professionals bring extensive knowledge on a wide range of issues and are ready to meet all your needs.  Of course, we can work with your existing established relationships in these areas.
Our Trusted Tax & Accounting Professionals
Dennis Decker
Dennis Decker serves as a principal at Ayotte Decker, LLC. He has acquired over 30 years of public accounting experience spanning a wide variety of industries. Dennis is motivated to meet all of his clients' personal and professional needs and values the strong relationships they build with one another. www.ayottedecker.com
James Laubinger
James Laubinger of Laubinger & Associates takes great pride in his non-traditional approach, and encourages all of his associates to do the same. With a company tag line of "Beyond CPAs", they place priority in viewing each client as a relationship, not just an invoice. James realizes the integral role his clients play as a part of his team, and possesses over 20 years of professional experience as a CPA. www.beyondcpas.com
Dan Nafiratos
Dan Nafiratos serves as an Audit Principal at Miller Cooper. He possesses over 20 years of professional experience in the areas of accounting, auditing and business consulting. He primarily meets with management to discuss the various issues that arise during an audit, as he is responsible for Miller Cooper's direction and review of audit services. Dan takes pride in his ability to collaborate well with everyone from venture-backed startups to established businesses moving through a transition. https://millercooper.com/project/dan-niforatos-cpa-principal/ 
Our Trusted Corporate & Estate Counsel Professionals
Jason Doran
James Doran is an attorney with Momkus LLC. He earned his Juris Doctor with honors (Cum Laude) in 2001 and finished first in his class in the sequence of business courses. He is admitted to practice in the State of Illinois, the United States District Court of the Northern District of Illinois, and the United States Supreme Court. James focuses his practice on the areas of estate planning and administration, commercial real estate, residential real estate, business transactions, and general representation of business entities and their principals. www.momkus.com/attorneys/jason-doran
Ted Kuczek
Ted Kuczek is an attorney with Kuczek & Associates, a firm he founded in 1984. Ted acquired his bachelor's degree in Business Finance from the University of Wisconsin Whitewater School of Business, and went on to receive his law degree from the John Marshall Law School in Chicago. www.kuczek.com/attorneys
Our Trusted Commercial Banking Professionals
Erik Ingbretsen
Erik Ingbretsen is the Vice President of Commercial Lending at JP Morgan Chase. He has served firms around Chicago in the areas of working capital, asset acquisition, owner-occupied real estate and SBA financing for 20 years. Erik takes great pride in his ability to offer unique lending and cash management solutions to privately held businesses.  
Aren Rieck
Aren Rieck is coming up on almost 20 years of banking industry experience, and is currently a Senior Vice President of Cornerstone National Bank & Trust Company. His main focus is commercial relationship banking for closely held small and middle market businesses. Aren values building strong client relationships, as he becomes someone who many of his clients faithfully contact prior to making important decisions.
Our Trusted Insurance Professionals
Jacob Zollet
Jacob Zollet has over 17 years in the insurance industry, and is currently Vice President at the Eugene Cohen Insurance Agency, Inc. Jacob works as part of a team of 35, providing us with best in class solutions for our clients' life, disability, long-term care, and annuity needs.  www.cohenagency.com 
James Phlam
Jim Phlam is the founder and President of Syndicated Insurance Services, Inc. Jim's firm provides our clients with top level service in the medicare supplement area.   www.syndicatedinsurance.com
Our Trusted Specialists
Annalee Krueger
Annalee Krueger is founder and President of Care Right, Inc. a Concierge of Senior Care Planning.  Careright assists families in navigating the complexities of the aging process, by managing crisis situations, developing a proactive Aging Plan, facilitating Family Meetings and providing needed support to struggling caregivers. www.carerightinc.com
Make Sure You Are Fully Taken Care Of
Whether you are looking to move to a more complete, comprehensive team of financial professionals or you are starting at square one we are ready to serve all your wealth planning, retirement income planning, investment portfolio management, coordinated estate planning strategies, and risk management needs. Experience the difference a relationship with us can make for you and your family! Call 630-445-2380 or email JStanton@seacrestwm.com today!
About John
John Stanton is a Wealth Advisor at The Stanton Group WP | Seacrest Wealth Management, LLC.  With more than three decades of experience in the financial services industry, he serves as an advisor for clients, focusing on financial planning and the investment strategies to support their financial plan. Based in Naperville, Illinois, John serves clients in Naperville, Plainfield, Darien, and throughout the state. Learn more about John's services by visiting www.stantongwp.com or connecting with him on LinkedIn.  You may reach John Stanton at  630-445-2380 or email JStanton@seacrestwm.com.
The Stanton Group WP provides investment advisory services through SeaCrest Wealth Management LLC, (the "SWM") a registered investment advisor. SWM is a registered investment advisor ("RIA"), with the U.S. Securities and Exchange Commission located in the State of New York. SeaCrest Wealth Management, LLC can be reached at (914) 502-1900.
Neither  the Stanton Group WP,  nor SeaCrest Wealth Management, LLC, make any representation or endorsement, of any third-party services, individuals, or entities providing them.